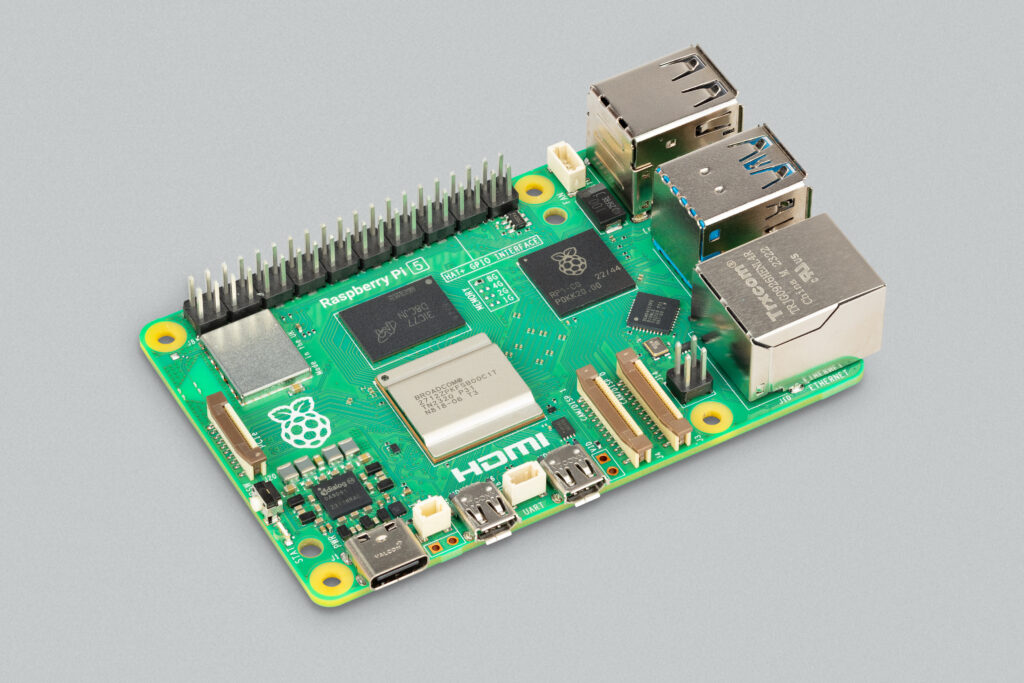 Say hello to the Raspberry Pi 5, the newest addition to the Raspberry Pi family, packed with exciting features and capabilities that will undoubtedly fuel your creativity and innovation. In this blog post, we'll dive into the key aspects of this remarkable single-board computer and explore how it can supercharge your DIY projects.
What's New in Raspberry Pi 5
1. Blazing Speed with the New Processor:
The heart of any Raspberry Pi is its processor, and the Raspberry Pi 5 doesn't disappoint. It boasts a powerful 64-bit quad-core Arm Cortex-A76 processor, making it faster and more capable than ever before. Whether you're running resource-intensive applications or multitasking, this new CPU will handle it with ease.
2. Enhanced Connectivity:
Connectivity is essential, and the Raspberry Pi 5 delivers in spades. It features Gigabit Ethernet with PoE support, USB 3.0 ports, and built-in Dual-band 802.11a Wi-Fi, ensuring lightning-fast data transfer and seamless wireless connections. This means you can effortlessly stream high-definition content, share files, and collaborate on projects.
3. More RAM for Multitasking:
With increased RAM options, you'll have ample memory to work on complex tasks. Choose from configurations with up to 8GB of RAM, allowing you to run multiple applications simultaneously without slowing down.
4. 4K Video and Dual Display Support:
Are you into video editing or digital signage? The Raspberry Pi 5 supports 4K video playback and dual-display setups, offering crisp visuals and flexibility for various applications. Imagine the possibilities for your home entertainment or digital signage projects!
5. Improved GPIO Pins:
For hardware enthusiasts, GPIO pins are crucial. The Raspberry Pi 5 includes a familiar GPIO layout with a new and improved RP1 chip driving it, making it easier than ever to connect sensors, LEDs, and other components for your IoT or robotics projects.
Getting Started with Raspberry Pi 5
ow that we've covered the exciting new features, you might be wondering how to get started with your Raspberry Pi 5. Follow these steps to kick off your journey:
Get Your Raspberry Pi 5: Head over to the official Raspberry Pi website or authorized retailers to purchase your Raspberry Pi 5 board.
Download the Operating System: Choose your favorite Raspberry Pi OS and download it from the official website. You can also explore various specialized distributions tailored to your project's needs.
Set Up Your Raspberry Pi 5: Follow our comprehensive setup guides to assemble your Raspberry Pi 5, connect it to peripherals, and power it up.
Explore Our Project Ideas: We have a treasure trove of project ideas on our blog. Whether you're into home automation, gaming, or creative coding, we've got you covered.
Solid upgrade
The Raspberry Pi 5 is a game-changer, pushing the boundaries of what's possible with a single-board computer. Its powerful processor, enhanced connectivity, and improved GPIO pins open up a world of opportunities for makers, hobbyists, and professionals alike. Stay tuned to our blog for in-depth tutorials, project ideas, and tips to make the most of your Raspberry Pi 5. Get ready to embark on exciting new projects and unleash your creativity like never before!
Are you as excited as we are about the Raspberry Pi 5? Share your thoughts in the comments below, and let us know what projects you have in mind. Happy tinkering!