Once you've created your awesome Raspberry Pi project – you will soon figure out that the beauty of a naked PCB board most often does not fall into the decoration taste of girlfriends and wives. Fear not – there are many cool Raspberry Pi cases to protect and enhance the look and feel of your finished project.This is a list of the top 5 coolest Raspberry Pi cases.

#5 – The Raspberry Pi standard plastic case
The standard plastic case is for those projects that need protection and not a big flashy case. The case has openings for all of your outputs (except the GPIO port) and has two small holes drilled into the top for cooling (or running GPIO wires). You can get the black Raspberry Pi plastic case here.
#4 – The Transparent Raspberry Pi plastic case
For those who appreciate the beauty of the naked PCB board – but still wants to protect the Raspberry Pi from dust and the elements. The clear case has openings for all outputs including the GPIO port making it a great fit projects that are connected to external hardware. You can find the transparent raspberry pi case here.
#3 – Punnet Fold-It-Yourself Case
Why buy a case when you can print one? The punnet print and fold-it-yourself cardboard is designed with exactly that thought in mind. The punnet case (named after the punnet raspberries normally come in) has room for must outputs and even features an air vent.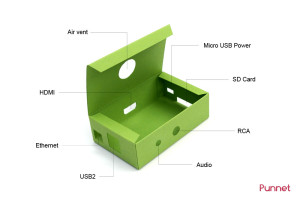 The punnet case can be downloaded here – and you can read more about the project here.
#2 – The PiBow
The Rainbow Raspberry Pi case (short PiBow) is for the colorful projects. It is crafted in seven unique colorful layers, but still allows the users to peak down through the transparent top to check everything is okay with raspberry. This case is sure to make the girlfriend happy.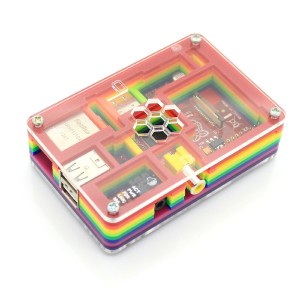 You can get a hold of a PiBow right here.
#1 – LEGO Raspberry Pi Case
The ultimate Raspberry Pi case is for the do-it-yourself guy that need a more sturdy case than a piece of cardboard can offer. The LEGO Raspberry Pi Case is the ultimate case for a for a LEGO fan's raspberry project. It comes with openings for all the outputs (except GPIO) and you get to build it yourself. You can buy complete packages ready to assemble with instructions and all the bricks you need. It even comes is a number of different colors.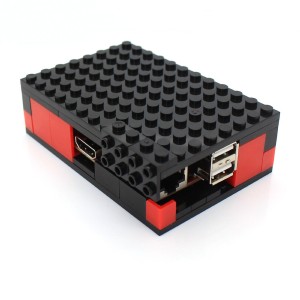 If you need a LEGO case for you next Raspberry Pi project you can buy one right here.